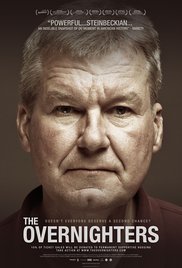 I saw the documentary The Overnighters on my local PBS station this weekend. It's an intriguing film about a particularly fraught situation: the oil boom town of Williston, ND and the men it draws to work there, some of whom only have a car (if that) to their name. The local pastor of a church starts a program to help the most desperate, providing food and places to sleep for many in the church itself, and sometimes just the parking lot so some can sleep in their car overnight. He even puts some of them up in his home with his family.
The movie's description probably puts it best, "Broken, desperate men chase their dreams and run from their demons in the North Dakota oil fields. A local Pastor risks everything to help them." Needless to say, there are a lot of issues at work here, none of them particularly easy to deal with. Some of these men have felonies on their record, and besides that, the town of Williston is going through all the difficulties any community would when its population doubles or triples in just a few years. The backlash of the church and local community against these newcomers is at once understandable and saddening.
The scene that sticks with me, the thing that keeps bugging me, is one where the pastor, Jay Reinke, goes around to neighboring houses, trying to get residents to come to the church and meet the overnighters, on the belief that if they start to get to know them, the fear of the newcomers will go away. After the pastor introduces himself at the door of one house, the neighbor comments on the "trash" he's keeping at the church.
To call another human trash is to profess a depressing belief in the irredeemability of you and your fellow humans. I'm not so naive as to say there aren't quite a few members of humanity that can commit despicable and heinous acts—history and the present moment and even this documentary provide far too many examples of this—but to call another human trash is to say they're on the level of a greasy food wrapper, not worth anything but wadding up and tossing in a landfill. It's to also ignore the many examples to the contrary of what humanity is capable of, some of which the film also captures.
I wish I could focus more on those hopeful aspects caught in the film, one of which has Pastor Reinke stopping his car so he can wave at a passing Amtrak—the day is beautifully sunny, and it is something to see a grown man wave at a passing train like a ten year-old. But try as I might, I can't stop seeing the other scene, the one with that perfectly normal house with the perfectly normal person answering the door, calling other humans trash because they're less fortunate than they are.
I knew some people in high school that liked to look at the "gross stuff" in medical books, for some reason. Weird, cheap thrills, or something… the eww factor that leads to some of the stupid stuff you see on reality TV, I guess. I did it once and couldn't do it again, because I couldn't get rid of the image in my head. This is also why I have difficulty with shows or movies that are overly violent—it's hard to forget what I've seen.
I wish I could stop seeing someone call their fellow humans trash, but I can't.
---