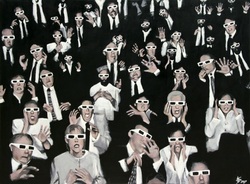 They're everywhere. They're in commercials and they're all over the internet. They keep the movie you're about to watch from starting for 15-20 minutes (unless you're smart and show up 15-20 minutes late, like a certain Viking and Celt enjoy doing). And sometimes, previews do what they're supposed to do, getting you excited about an upcoming movie. Frequently, though, you can wonder who put the darn thing together.
Like those stupid trailers that basically tell you the whole plot of the movie. Even if a story isn't ruined for you if you know how it ends (there are apparently people like this–though I didn't know there were until I met the Celt), this is just about the laziest way possible to make a preview. Cliffs Notes for the win, right? Because everyone reads those things because they're entertaining…
Oh, and this approach forgets that a preview is supposed to be a preview… not a synopsis. Like this trailer I unfortunately saw once for Nicholas Sparks's Safe Haven. You of course know what you're in for with Nicholas Sparks, but come on. I know how the whole thing is going to go! What makes this even more annoying is that plot-focused trailers take the focus off the acting and the, you know, other important things that make a movie good. Plot's nice and all, but it's not the only thing to a story (although I will admit that the Safe Haven trailer does show off some well done cinematography).
The other thing to hate in trailers these days (or maybe the past ten years?) is how frenetic they can be. Of course, this style of trailer is common because studios want to build tension and a desire to see the story (and my heart can kind of go out to the editors that have to put these things together), but almost all of them throw a billion shots together in an effort to build up some kind of tension. This has even carried over into the action shots in movies themselves, and the result is more often a seasick mess than an actual, tension-filled moment.
Hmmm, that's been a lot of complaining… so what do you like, Mr. Big Frickin' Swede? Well, you pulled it out of me: I'll tell you after the break.
---