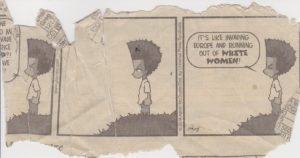 Is unlooked-for humor the best humor? I said it was the other night on Twitter when I was surprised by Revanche's random quote from Galaxy Quest: "By Grabthar's hammer, what a savings" (seriously, I can just see the annoyance and disdain on Alan Rickman's face as his character is forced to say his catchphrase). I was amid a sea of depressing news and thoughts, and this hilarious line from out of left field made me laugh out loud (not that "LOL" thing, which often only means you found something amusing).
While things are almost always funny because they surprise us,* that's not quite the way I meant it when responding to Revanche. We often experience humor when we're looking for it: comedic movies, sitcoms, late night shows, you name it. But to my mind, the best humor is unlooked for humor, the type that arrives when you are otherwise preoccupied, sitting on the couch with serious thoughts, perhaps with darkness on the horizon.
This conviction has been quite settled in my mind for some time, made particularly concrete by the large amount of time I spent in hospital waiting and recovery rooms about thirteen years ago, when my father's cancer was being treated. Aside from the memory I'm about to share, the thing I remember most from that time is the smell: the hospital stink. More than the remembrances of my dad in his hospital bed or the people from our church that were wonderful enough to visit is that god-awful smell of the hospital. I can summon it to mind even now, that antiseptic, artificial, non-living stench.
I suppose some could attach it to cleanliness or something at least a bit more positive, but I cannot. While the doctors were quite hopeful for being able to deal with my dad's cancer and his recovery, lingering in the back of my mind was the knowledge that this was cancer, those damn rebellious, screwed up, abnormally growing parts of your own body that can kill you. The thoughts were there, just like the smell, refusing to be ignored or to go away.
They were worst the evening of the operation, when we sat in the waiting room with them just hanging about. I eventually had to get up and take a walk—I couldn't sit there for one more minute—and I inevitably found the cafeteria, which was completely deserted, all the places to buy food closed up. Some kindly or lazy person (I prefer the former) had left a copy of the Minneapolis Star-Tribune lying on a table, and I riffled through for the comics section.
I've been a funnies man my whole life and will continue to be, but I wasn't particularly expecting or wanting to laugh—I just wanted to think about something else, anything else. To forget that hospital stink in my nose, even in the cafeteria. I perused my usual favorites and didn't crack a smile. Then I found the Boondocks strip for the day, and I broke into laughter. It was just so incongruous to my situation, so illogical, so everything I needed at that moment and didn't even know it. I was immediately fond of that strip and tore it out, keeping it in my wallet for years until it started to disintegrate (as you can see above).
And that is why unlooked for humor is the best humor.
*The only exception I can think of is when a loved one tells that one story you've heard a million times but you still get a kick out of hearing it. And there's maybe equal parts fondness and love to this as much as humor. 
---